Tableau is a new restaurant in London's swanky Soho that's taking finger food to the next level by using the iPad 2 instead of plates.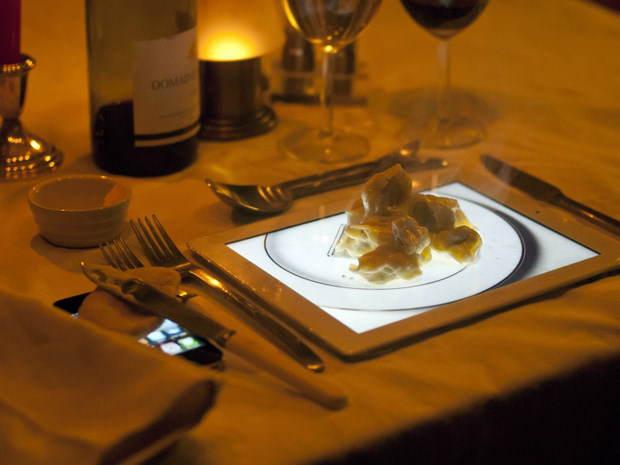 After chowing down at the all-white restaurant, which also has an all-black room, we can vouch for the fact that it's mind-blowing to see an iPad 2 surrounded by crisp white napkins and silver cutlery.
App-etising
The culinary adventure is iPad-obsessed from the start, when you peruse the Tableau menu app on the iPad 2. Each dish includes a full-screen photo that shows exactly how the food will appear when it's served on the tablet.
We found it easy to send our order to the kitchen with a few taps. We ordered a saucy selection of the eatery's California-themed food, inspired by the iPad 2's birthplace in Cupertino. We chose the Terminator Tortellini, a tribute to Governor Schwarzenegger, and the Hollywood Sign Steak, which is cut into all nine letters of the iconic billboard.
While we watched a live stream of the chefs at work on our iPod touch side plates, our iPad 2 made the trip to the kitchen to get loaded up with tasty treats.
It was deeply moving to see a delicious steak served on a stunning slice of tablet technology. Info about calories and nutrients was displayed around our pasta, and it even warned us to beware of our piping-hot food.
iMpracticalities
There are downsides to iPad 2-based dishes, however. The device doesn't have a rim, which means it doesn't do a good job of holding sauces and other runny items. According to other diners, the all-day breakfast was "a nightmare" due to the fried egg and beans running rampant over the table.
Also, the iPad 2 is sensitive to liquids, forks, knives and other implements, despite a protective coating of silicone to avoid scratching the tablet's glass screen. One of our tablet plates stopped working halfway through the meal, and restaurant staff told us that they throw "at least two or three" iPad 2s in the bin every day.
Finally, we weren't able to enjoy the roaming GarageBand musicians or nightly Words with Friends tournament, because having food on the iPad 2 makes it almost impossible to play with. In fact, we were up to our elbows in food grease by the end of the night, and the free wet wipes don't help pay a dry-cleaning bill.
Because of that, we think Tableau will go out of business faster than last year's short-lived member's-only hotspot, Miaou, which provided kittens instead of loo roll. The iPad 2 is a fun gadget, but it makes a rubbish plate. Plus, chucking out five iPad 2s every day obviously isn't cheap -- our bill broke the bank at £654, not including wine.
Taiwan may be a comparatively small place, but it's well known for a few things: incredible eats, incredible technology, and the best Little League World Series teams this planet has ever seen. Since we were all the way over on the other side of the planet, we couldn't help but stop by the Windows 7-themed eatery that opened up.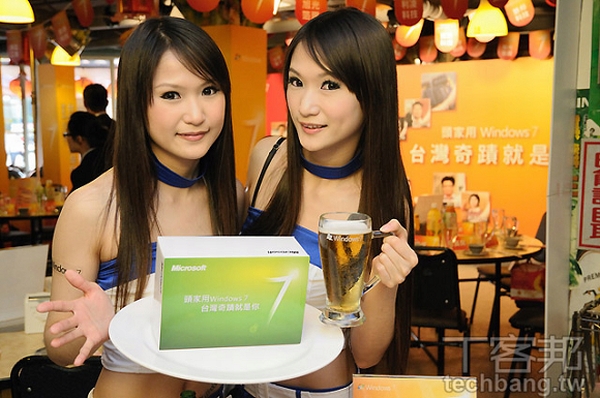 The place, as we were told by the one and only Andy Yang from Engadget Chinese, is Taiwanese through and though. It typically goes by 100 Seafood, but for a couple of months it has been transformed into a 64-bit dining location with Windows 7 wallpaper, stickers, banners, and even mugs.
Each day there's a special menu item that sells for just NT$77 (around $2.38 in the US), but considering that said special was some form of intestines on the evening that we showed up, Engadget and company sprung for dishes with a bit less relation to the digestive system. In all seriousness, the grub hit the spot after a long day on the trade show floor, and the take-home mugs for us media folk made the journey even more worthwhile. Now, to see if the lid closes over if we don't activate the thing in 30 days...